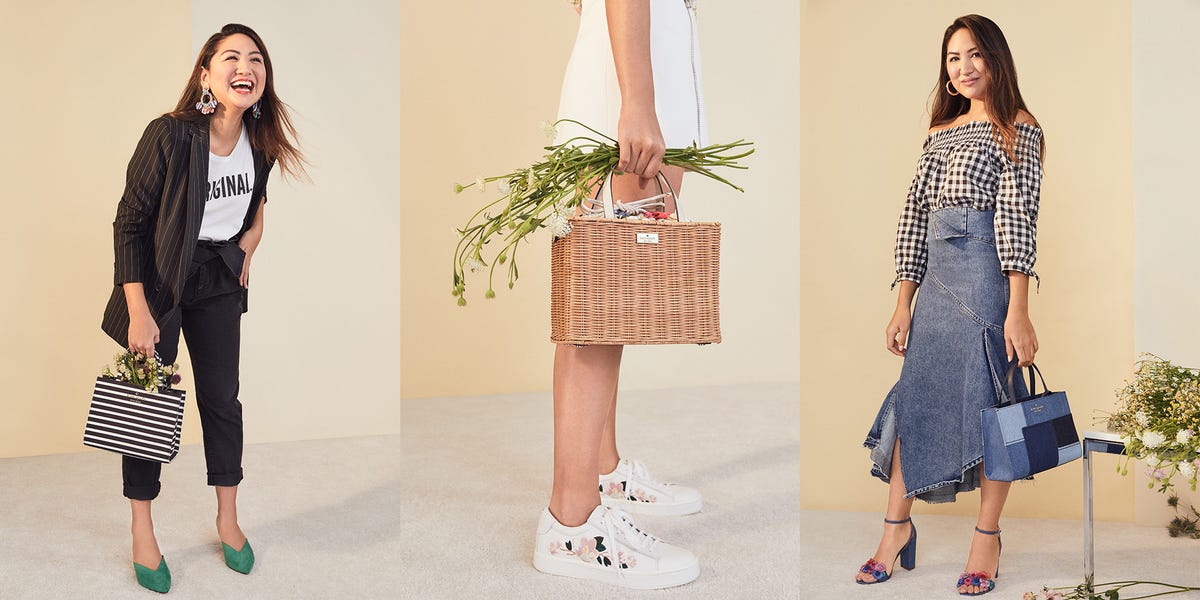 When it comes to dressing for the new season, ELLE.com's Senior Beauty Editor Kristina Rodulfo likes to switch things up from her normal black, white and grey uniform — yet still stay true to her born and bred New Yorker style. The outcome? An elevated take on spring's favorite trends. Here, see pops of bright colors, fun prints and different ways to wear denim — all with a twist. Rudolfo's number one motto for the season ahead? When you wear it with confidence, you can wear anything.
Advertisement – Continue Reading Below
This look perfectly exhibits Rudolfo's take on prints, but with an edge. The pairing of a sweet plaid dress and strong white boot creates a sleek version of the Western trend (perfect for the cowboy averse). If you have yet to jump on the white boot bandwagon, know it's definitely not too late. The addition of structural earrings give this ensemble a city-friendly touch. "I could see myself walking in Central Park wearing this," she says.
This season, take full advantage of the endless ways to wear denim. Look for innovative silhouettes and denim washes to change things up. "This skirt is super unique because of the shape and I love that it balances out the top," says Rudolfo. And gingham? It's forever a spring staple.
You don't need to be restricted to color and florals come springtime. Being the city girl that she is, Rudolfo won't sacrifice a chic black and white moment because of a few drops in the temperature. The '80s power suiting trend can be styled seasonally appropriately by breaking it up with black denim, a fun color and statement tee. ""This whole outfit made me feel like a boss," says Rudolfo.
Logomania was one of the most impactful trends on the runways this season. In this case, a graphic tee gives Rudolfo the assurance to take on the day, flawlessly. To finish it off, pops of green, a striped handbag and statement earrings show that simple black and white can be made fun.
Advertisement – Continue Reading Below
Florals for spring are—couldn't resist—a perennial favorite for spring, wherever they happen to pop up. A flattering all-over-print jumpsuit has the same ease as throwing on a dress, but gives off an "I just threw this on" vibe. For this look, more is more. A bold, statement shoe and full-on print work together to create a cohesive, balanced outfit.
A mini skirt is a definite spring style staple for Rudolfo, "This is my 'if I could wear an outfit everyday look.'" The sweet and sporty combo is perfect for those days when you just can't decide what to wear. The addition of a straw picnic-style bag and sleek white sneakers make this feminine ensemble something to remember.
But the key to mastering style this season, Rudolfo attests, is by showing off your (no longer hibernated) legs. ""When in doubt, go tightless. I just love the look of a bare leg."
Let's block ads! (Why?)