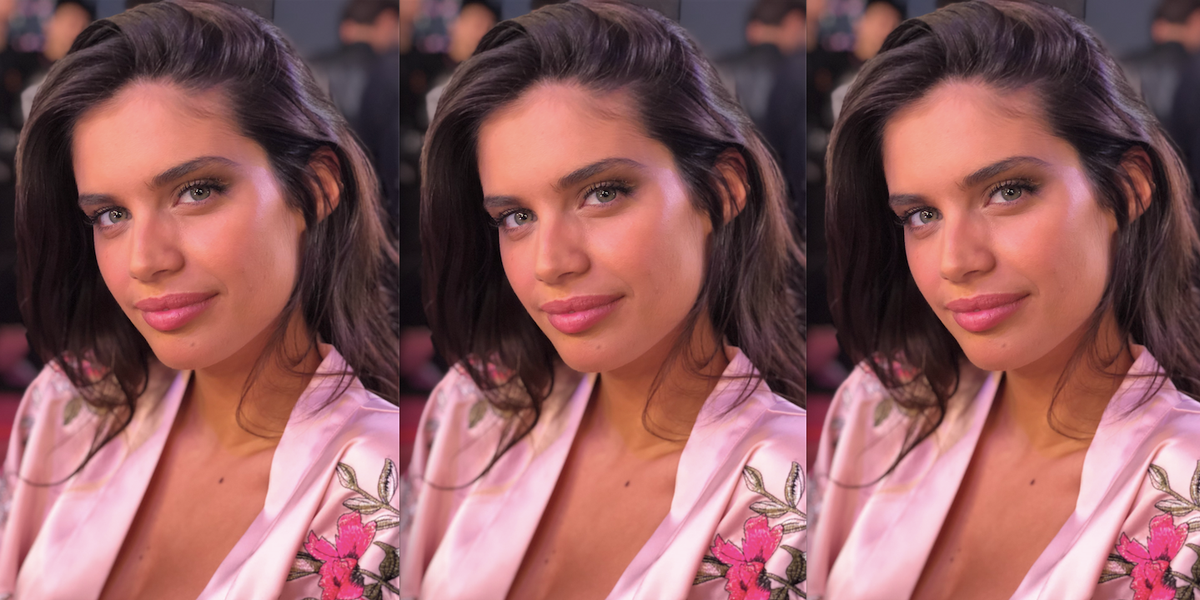 Backstage at the Victoria's Secret Fashion Show, Sara Sampaio is ready to focus on feeling powerful—and trying not to fall—as she prepares to take the runway. But she's also feeling proud, she says, to be part of a team that is so supportive of other women.
"Back when I wasn't even modeling, I loved Victoria's Secret," she says as she gets her hair and makeup done for her fifth VS show. "You see these women and they look so powerful and beautiful like no one can do any harm to them—they look like these glamazons. Its kind of amazing to be part of it, you do really feel like that. I'm really proud to be with a company that really does support their models and treats us really well and always has us as their main priority. We have so many women who work here as well, not just models."
Advertisement – Continue Reading Below
This, of course, isn't always true in the fashion industry. A month ago, after a magazine allegedly published a photo of her that contained nudity without her consent, Sampaio opened up in an Instagram post about the experiences she's had modeling where people tried to push her to do things she didn't want to do.
"On many occasions where the shoot was to not have nudity, I would arrive on set and the photographer or stylist would pressure, cajole or demand that I pose nude because I had done it in the past," she wrote. "I was bullied. Many times, I was showed nude images of myself as examples to coerce me into posing nude, and whenever I stood my ground and refused, I was criticized and judged as being difficult."
The reason she shared her story, Sampaio explains, is that she wants people to feel empowered and know that they can say no.
"I think social media has given such power and such a big voice," she says. "You don't have to have millions of followers to know that you actually have a voice and actually stay true to what you believe and don't be scared to say no and really have a trust system around you if something bad does happen. I think that's the most important thing."
"When I shared that story, I had so many of my friends and other models come to me and were like, 'Oh my God, that happened to me, thank you for speaking out' and if any of them would have talked about their stories, maybe that wouldn't have happened to me. So thats why I felt it was so important to share my story; hopefully if I'm saving one girl from having to go through what I did, it will be worth it."
Let's block ads! (Why?)